www.boisedulac.com site officiel de l'Hotel-Motel Le Boisé du lac à Mont-Tremblant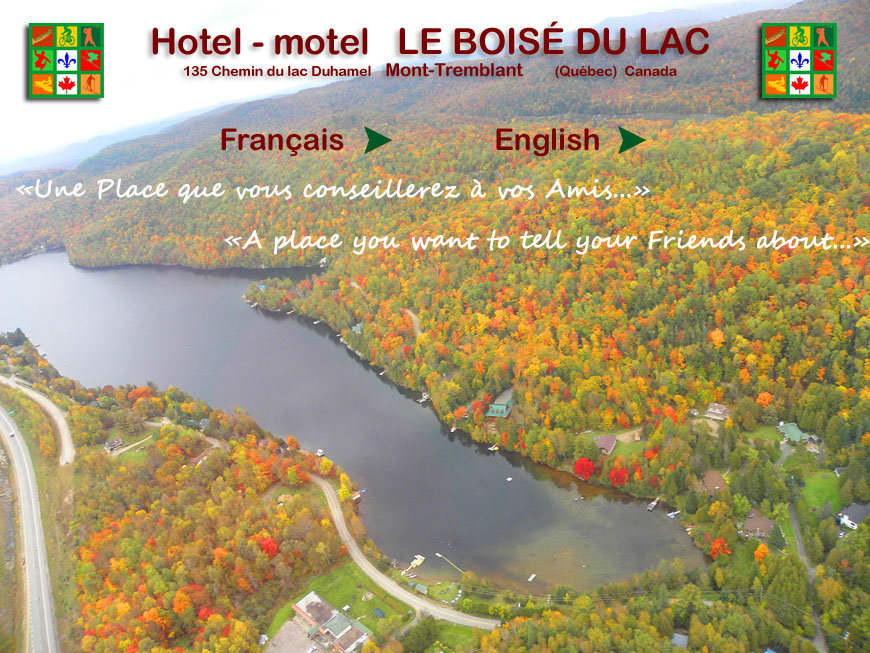 ---
Notre hôtel est situé au bord du lac Duhamel à Mont-Tremblant entouré des magnifiques forêts des Laurentides tout en étant situé à seulement 5 minutes du centre ville de Mont-Tremblant (St-Jovite), 10 minutes du centre de villégiature de Tremblant et de ses pentes de ski.

Vous pourrez également profiter de notre belle PLAGE PRIVÉE pour relaxer, vous baigner, pêcher, faire le tour du lac en canot, pédalo, kayaks ou chaloupe, faire une partie de ping-pong, de badminton et finir la journée en dégustant des guimauves grillées autour du feu de camp et tout cela sans frais supplémentaire.

Tous les matins, un petit déjeuner continental vous est offert gracieusement. Vous avez la possibilité de préparer et consommer vos repas dans notre salle à manger où une AUTO-CUISINE entièrement aménagée est à votre disposition. L'été, la terrasse donnant sur le lac, des BBQ, des tables de pique-nique et une aire de jeux pour enfants sont également disponibles. L'acces internet Wifi est disponible et gratuit dans tout l'établissement. L'ambiance chaleureuse et conviviale du Boisé du lac en fait un havre de paix en pleine nature où vous vous sentirez comme chez vous.
---
Our hotel is situated on the picturesque shores of Lake Duhamel in Mont-Tremblant. It is nestled within lush forests, while being just 5 minutes from downtown Mont-Tremblant (St-Jovite), and 10 minutes from the Mont Tremblant Ski Resort and National park.

It features a PRIVATE BEACH with canoes, pedal boats, kayaks and rowing boats. We provide all of our guests free usage of these facilities, as well as the options to fish, swim and enjoy a heart-warming campfire by the lake. Guests can also enjoy using the BBQ pits, sheltered picnic areas and children's playground in the large lawn of our hotel, as well as get active with playing volleyball, table tennis, basketball or soccer, all at no extra fees.

We serve a continental breakfast every morning, and guests may also prepare their own meals in the communal kitchen. Our dining room opens to an outdoor deck, which overlooks the lake and the mountains beyond. In addition, the guests have rapid wireless internet access for free within the hotel. Le Boisé du Lac would make you feel close to nature and the warmly-inviting atmosphere would make you feel like it's your second home.
---
ABONNEZ VOUS À NOTRE INFOLETTRE...
accueil
|
localisation
|
reservations
|
albums-photos
|
certificat cadeau
|
forfaits SPA Scandinave
|
Parc du Mont-tremblant
|
forfaits été
|
ski
|
golf
|
casino de Mont-Tremblant
|
contact
|
english
- Tous droits réservés - Copyright © 2016 www.boisedulac.com | Info-Reservations (819)425 2789